It is easy to see why nursing is such a popular field as you get to make a positive difference to the world and help people each and every day. As such a competitive field, it can be challenging for a nurse to stand out from the crowd and advance their career, which can make it frustrating as people will generally want to always be taking steps forward in their career. There are a number of ways in which you can stand out from the crowd, so if you are looking to reach the next level in your career, then read on for a few ideas.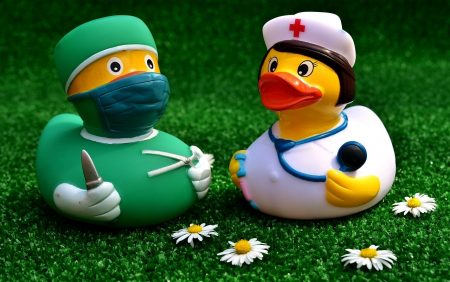 Immerse Yourself In Nursing
Nursing is more a way of life, and those that fully commit to their job will always stand out and be looked on favorably. There are a number of effective ways that you can immerse yourself in nursing, which will show your commitment while also helping you to find ways to improve your abilities, such as:
Attending industry events
Research
Reading publications
Listening to podcasts
Joining online communities
Improve Your Soft Skills
Being a nurse is challenging and will require a range of specialist and soft skills. You should not overlook the soft skills side of the role as these are vital for performing to a high standard and communicating effectively with colleagues, patients, and their families. If you have any soft skills which could be improved, then it is a good idea to work on these until they are strengths. A few of the key skills to work on include:
Communication
Time-management
Teamwork
Leadership
Presenting
Critical thinking
Go the Extra Mile for Patients
A nurse plays a hugely important role in healthcare, and one of the key areas is providing emotional support for patients. This means that you need to be empathetic and willing to go the extra mile for your patients so that they feel cared for and supported, which will always help you to stand out and show your value. While it is important that you make connections with patients, you also need to be able to separate yourself and not let emotion get in the way of your work, which can be challenging.
Be a Team Player
While you will want to stand out to advance your career, this does not mean that it should be at the expense of your colleagues; instead, you need to be a team player. Nursing is a challenging, noble, and important profession, and there is a real sense of team and camaraderie amongst nurses that you need to involve yourself in. In addition to showing that you are a team player, this could also be helpful in terms of getting help with your workload and providing emotional support – but you will need to be willing to do the same for your colleagues.
Keep Learning
It is, of course, important to keep learning when you are a nurse, which could be vital for taking the next step while also showing your commitment to your job. You can take online courses with online nursing programs, which will teach you everything that you need to know to advance and will provide flexibility so that you can both work and study at the same time.
Keep Your Personal & Work Life Separate
It is important that you are able to separate yourself from your work; otherwise, it will negatively impact both your professional and personal life. Being able to switch off at the end of a shift is difficult, but many people find that things like getting changed immediately, having plans, and not talking about work outside of work can be useful.
Look After Your Own Health
Providing healthcare and emotional support can be incredibly challenging, especially when you consider the long hours that nurses work. This can all take its toll physically and mentally, which is why it is so important to prioritize your own health. This will include:
Eating a healthy diet
Getting enough sleep
De-stressing after work
Getting enough exercise
Socializing with friends and family
Seeking support if required
These are the main areas to focus on if you are looking to stand out from the crowd and advance your nursing career. It is challenging in such a popular and competitive field. However, when you know how to stand out, and you are willing to put the work in, then you should soon start to notice the results and be viewed favorably by your superiors while also improving your daily performance.