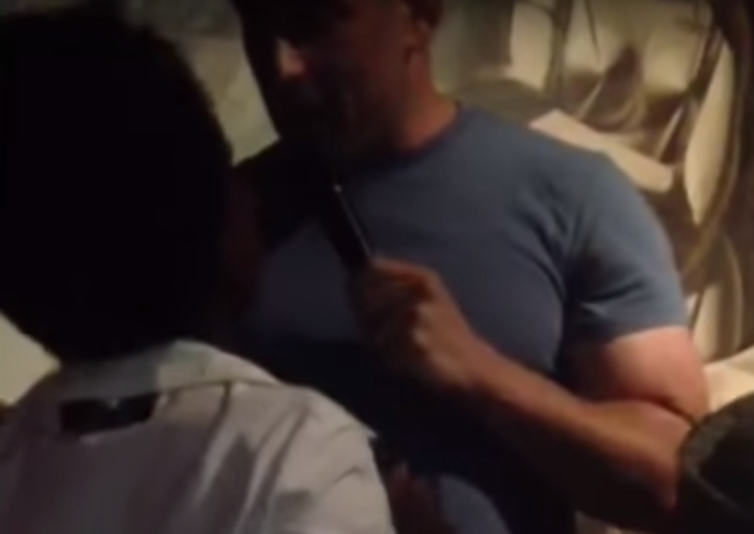 Comedians should kill. Hecklers shouldn't.
Standup comedy doesn't exactly sound like the type of job where you'd think someone would risk life and limb for a paycheck, but every once in a while, we are reminded that it can be a profession that's hazardous to your health, courtesy of hecklers, who, not content with merely mouthing off at an act, decide to take it a step further and get physical.
For whatever reason, people in the audience can become emboldened and decide they're ready to assault a comedian. And, by "whatever reason," we're mostly going to credit alcohol. That whole two-drink minimum may be great for a club's bottom line, but it can wreak havoc on a heckler's decision-making.
Hecklers don't often attack comedians – it's about as rare as a Carrot Top joke that doesn't involve a prop – so when they do you know it's going to raise some eyebrows.
Take a look at these incidents when hecklers attacked and long for the days when dissatisfied crowds merely threw tomatoes instead of punches.
The Beer Bottle
There's not a lot of context to go on here, other than a guy with a fashion sense that combines Jon Voigt in "Midnight Cowboy" and Boy Scout shorts is performing onstage in what appears to be some nearly empty L.A. club that looks like it's right out of '80s central casting. Just as he wraps up, someone in the front smashes a beer bottle over his head.
Duck! Here Comes Mic Stand!
Comedian Steve Brown was onstage doing his thing in January at the Comedy House in Columbia, South Carolina when an irate patron, named Marvin, went totally loco, jumping on the stage looking to go 15 rounds. Heck, the dude even threw the microphone stand and caused $400 worth of damage. Four people were hurt. What set off Marvin? Apparently, Brown asked him if he was okay after noticing he'd been staring into space. Geez, we can only wonder what would've happened if he asked where he's from.
Cooler 'Towelheads' Don't Prevail
We don't know who this fella is, but we do know he'd pretty ticked off. From what we can see in his set, he's pretty mad at the whole mess in the Middle East and then he gets into it with a woman who's annoyed that he uses the phrase "towelhead." He goes next level by calling her the C-word, so she hops onstage to punch and shove him. This guy was really aggressive and, while we can't condone the woman's actions, we can certainly understand why her blood was boiling.
Wait – So You Mean Some People Like Trump?
John Caparulo was hardly breaking new ground in 2017 when he was making fun of Donald Trump while performing at The Comedy & Magic Club in Hermosa Beach, California. A woman sitting in the front row, though, let him have it. And by "it," we mean a glass, which she threw right at him because Trump supporters have very little sense of humor when it comes to poking fun at him.
Down Goes Bruner
As a comic, you want to get the audience to get off their feet, as long as it's part of a standing ovation and not to bum rush you on the stage, like this unamused fella did to comedian Bryan Bruner. You can hear him yell, "You suck" as he shoves Bruner down. Security quickly arrives and the scene winds up looking more like something out of "Jerry Springer" than any sort of comedy show.
Who'd Attack a One-Armed Comic?
It takes chutzpah to try and fight a comedian, but it takes a set of golden microphones to do it when the comedian is handicapped. A woman jumps onstage during a set by a one-armed comic in St. Louis in 2008. Her whole table was arrested and she can now spend the rest of her life at cocktail parties saying, "Yeah, I'm the one who went after a one-armed man." She'd have been better suited to starring on "The Fugitive" than going out for a night of yuks.

Jim Jefferies' Big Break (To the Head)
Jim Jefferies is a worldwide star now, but, in 2007, someone punched him during a show, which, interestingly enough, marked the first time he got major publicity. It's a pretty intense scene and Jefferies never backed away from talking about the incident.
May I Pour You a Drink?
American comic Luke Capasso was working a woman in a very small London room and the crowd seemed to like his schtick. The problem was the woman most certainly did not and let him know it by pouring a drink over his head and then tossing the glass at him. He was stunned, but, like any good comic worth the salt of the rim of the margarita glass, rolled with the punches that she didn't throw.
A Thin Line Between Love and Hate
This woman was annoyed with the comic. So annoyed that…she made out with him? Yeah. Just give it a watch and you'll see how this is all played out. All things considered, you can't have an interaction with a heckler any better than this.
Six-String Rage
While hecklers can sometimes take things too far, you don't expect comedians to do the same, but back in the '80s comic Kenny Moore did just that when he took the guitar he was using during his performance to hit a patron. The footage doesn't allow us to see exactly what went down, but Moore most certainly did hit the audience member with his guitar. The audience condemns him immediately, even though Moore says the guy came at him. It's still not clear where the altercation took place, but Moore was still talking about it decades later.
CHECK OUT OUR ARCHIVES FOR MORE ODD NEWS STORIES AND FOLLOW ODDEE ON FACEBOOK and TWITTER.