Did you know that each month of the year has delicious foods that are celebrated? From lasagna to cheesecake to Scotch, there is something for everyone and these are all the foods Nationally celebrated in July. 
Chicken Wings
Yup, chicken wings are celebrated on July 1st. The story goes that former mayor of Buffalo, Stan Makowski, officially declared International Chicken Wing Day in 1977. While there are a number of different ways to eat wings, one of the most popular is Buffalo style. The actual birthplace of these Buffalo wings was Anchor Bar in Buffalo, New York. Chicken wings are not only popular here in the US but also in Canada, India, Mexico, Germany, Singapore, and the United Kingdom, among other places.
Ice Cream
Not just any ice cream though,. This day is especially for interesting and unique ice cream. The day itself is called National Creative Ice Cream Flavors Day. There are so many amazing and delicious new flavors of ice cream all the time like chocolate coconut and raspberry cheesecake. And of course there are all kinds of other creative flavors, like  crocodile egg, octopus, caramelized brown bread, shrimp, bacon, pizza, and garlic ice cream.  Eww, not delicious foods for me. 
Ginger Snaps
You would expect this cookie day to be celebrated closer to Christmas or at least in a Fall season. However, if you love gingersnaps, than the time of year doesn't matter much, as they are such a delicious, spiced cookie anytime. Pair these cookies with a cup of coffee or a swirl of whipped cream. Ginger is good for your belly, and overall health. Not only that but they are easy and quick to make, and you can cook them a little extra if you love them crispy. YUM.
Chocolate Wafers
Did anyone else have any idea that there was a day that celebrated chocolate wafers? You usually see these in a combo pack with vanilla and strawberry wafers but if you love the chocolate the best, there are some places that sell the wafers separately. Chocolate wafers have been used as an ingredient in cake, cheesecake, pies and tarts. They have also been used to decorate cakes. One online chocolate shop that may satisfy your "sweet tooth" is called Santa Barbara Chocolate.  No matter how you eat this yummy treat, it's one of the delicious foods celebrated in July.
Beans
National Eat Beans day is celebrated in July on the 3rd of the month. Baked beans specifically are celebrated the entire month of July, because grilling, picnics, and what goes better with potato salad than baked beans? Do you love beans? What about bean riddles? Here are a few for you.  'I am a bean, very lean. I am not fat, I'm sure of that. Like all beans, I'm small and round — but unlike others, I don't grow in the ground'. Or what about, 'Beans, beans, the magical fruit, the more you eat, the more you toot.' Classic banger. You can use beans to make some delicious and surprising recipes as well, just make sure you aren't using baked beans for these! Black Bean Brownies, Honey-Roasted Chickpeas, Navy Bean Pesto, Bean Burgers, and even Alfredo sauce can all be made with beans. 
Fried Clams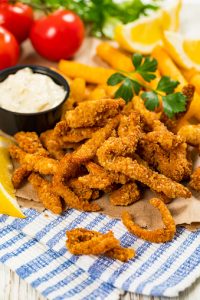 Also celebrated on July 3rd, is National Fried Clam Day.  This fried snack has a validated back story as to how they were first thought of and of course, it comes from a sleepy little New England town. Lawrence Henry "Chubby" Woodman and his wife, Bessie are the ones who thought to deep-fry clams in the first place. The two had a small seaside stand in 1914, in Essex, Massachusetts, that sold soft shell clams dug up by Chubby himself, along with other goods to the locals on the weekends. Business was slow for the first couple of years, at least until July 3, 1916. While talking to a local fisherman on one particularly slow day, Tarr said to Chubby that maybe 'Bessie should deep fry some of Chubby's freshly dug clams, heaped in a nearby bucket, the way she deep-fried potato chips.' The friends laughed over the thought but they did it and got a couple locals to taste test their creation. They tried different batters all day and the overwhelming majority said that the fried clams were delicious. The began to sell the first of their fried clams the very next day at their July 4th celebration and New England summers haven't been the same since the invention of these delicious foods.
Crazy enough there are many more delicious foods celebrated in July. Which on of these is on your list to enjoy first this month?