It's always valuable to have a hobby. Depending on who you are and what you're looking to get out of it, it can serve as a way to entertain yourself, a way to kill time, a way to meet new people, or even a way to make money. And if you live near the water (like an ocean or a lake), there's no shortage of hobby ideas you can try.
Hobby Ideas for the Water
Try some of these hobbies if you're looking for something new…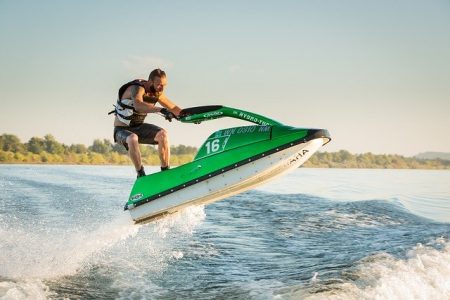 Boating.  This is an incredibly broad hobby category, in part because there are so many different types of boats you could get and in part because there are so many ways to enjoy the activity. For example, some people want a speed boat they can use to navigate the waters at extreme speed. Others want a massive boat for a relaxing cruise to enjoy with their friends and family members. Still others only want a boat because of its use with another hobby, like fishing or diving.
Fishing. One of the most popular waterside hobbies is fishing. Depending on where you live and what kind of fish you're catching, you could practice the hobby as a source of food, or just fish for sport. People enjoy fishing because of the stillness and patience required, and because different fish require vastly different approaches. Get to know which fish swim in your local ecosystem!
Swimming. Assuming the water is clean and/or safe enough, you'll probably be able to swim locally. Swimming is one of the best exercises available, in part because it utilizes the entire body at once. It's also a great cardiovascular exercise, and is low impact, so you don't have to worry about joint problems even after extended periods of activity. There are also four major types of strokes you can learn, so if you get tired of one, you can change things up.
Surfing. In areas with ample waves, you can try surfing. Surfing requires strength, dexterity, and balance—so you'll likely fail many times before riding a wave successfully. However, surfing successfully is an extremely rewarding experience, and one you'll likely want to repeat many times in the future.
Scuba diving. In areas with shallow water, diving isn't a realistic possibility. But if you have lots of space to work with, you can don your scuba gear and explore the depths of the water. Bring an underwater camera with you and you'll be able to record footage or take photos of whatever you find. In some areas, you'll be able to see and interact with a diversity of underwater creatures, like coral, fishes, or even dolphins.
Collecting shells. If you like being near the water but don't want to get in, you can always spend your time on the beach. Wandering up and down the beach, you'll find an assortment of shells, interesting rocks, sea glass, and other materials. If you're crafty, you can turn these into jewelry—or just keep them in an interesting display in your home. If you like the treasure hunting angle, you can also try using a metal detector to find things long buried.
Sailing.  This is a type of boating, but it requires more skill and attention—making it a favorite hobby of many. If you've always been interested in learning to read wind and air currents, this could be an ideal choice.
Jet skiing. If you love the idea of speed boating, but you're interested in a smaller vessel, consider jet skiing. Jet skiing is an accessible water sport, and a relatively inexpensive one, so you can get started in record time.
Of course, these aren't the only ways you can enjoy the water. If you love the peaceful serenity of the water, you can simply sit and sunbathe or watch the waves rolling in. You can also partake in another hobby on the beach, like reading, meditating, or practicing yoga.
Picking Up a New Hobby
Getting started with a new hobby can be tough, especially if you don't know where to begin. Oftentimes, the best way is to meet someone who's already familiar with the hobby and talk to them about their experiences. Attend a local meetup around the hobby, or just head to the beach and look for groups who are already participating in it; reach out and ask lots of questions to better acquaint yourself with the activity.
Don't be discouraged if your first choice of hobbies doesn't bring you joy right away; give it a few times before you give up on it. If it doesn't work out, there's a practically limitless number of alternative options you can try.
Want to tell your strange story?
Tell us about it
and it could be featured on Oddee. You can remain fully anonymous.